COMING SOON


New additions to our line of Himalayan Yak Dog Pawducts
Crunchy treats your dogs will love!

• The perfect quick, crunchy treat for all dogs and chew styles.
• Small size is ideal for rewards or a quick treat.
• Made from thinly sliced Himalayan Yak Dog Chews, puffed into tasty crackers.

Turmeric Himalayan Yak Chews
• Our beloved long-lasting Himalayan Yak Chew - now with turmeric!
• Over 6,000 studies show many health benefits of turmeric in dogs.
• Turmeric contains curcumin, which has antioxidant, anti-inflammatory, antiviral, antibacterial, and antifungal properties.
• Turmeric helps promote healthy joints, digestive system, and dental health.

• Puffed texture provides a satisfying crunch!
• Dogs love to play with Puffs almost as much as they love crunching on them!
• Made from chunks of Himalayan Yak Dog Chews, puffed into tasty crackers.
Don't miss out!
AVAILABLE APRIL 18, 2022!
Get early access – and HUGE discount codes – to our NEW Himalayan Yak Pawducts by joining our Pawstruck Pack VIP Facebook Group!
---
THE EARLY REVIEWS ARE IN...
our canine customers agree – our new Yak Pawducts are worth barking about!
Gunner
Himalayan Yak Cracker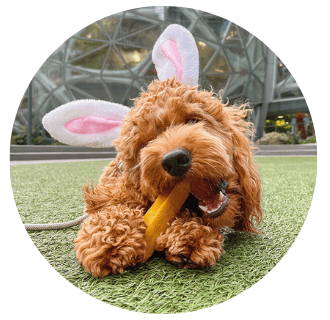 @zoey.doodlebear
Turmeric Himalayan Yak Chew
Paisley
Himalayan Yak Puff